Sep 25, 2006
14,364
0
36
48
Izvanredan AV receiver iz prestižne AVENTAGE serije koja uz nevjerojatan doživljaj filmova omogučuje i vrhunski doživljaj muzike te ostavlja iza sebe razna razvikana stereo pojačala.
Uz najnoviju tehnologiju možete uživati u stremanju muzike sa PC-a, NAS-a, internet radia, AirPlay, Napster® te upravljati sa mobitelom ili tabletom sa app kontrolerom a možete spojiti i gramofon na phono ulaz.
HDMI 8/2, digitalni optički i coax ulazi, USB, LAN, WI-FI ready, bluetooth ready
Dolby TrueHD, Dolby Digital Plus, Dolby Pro Logic IIx, DTS-HD Master Audio,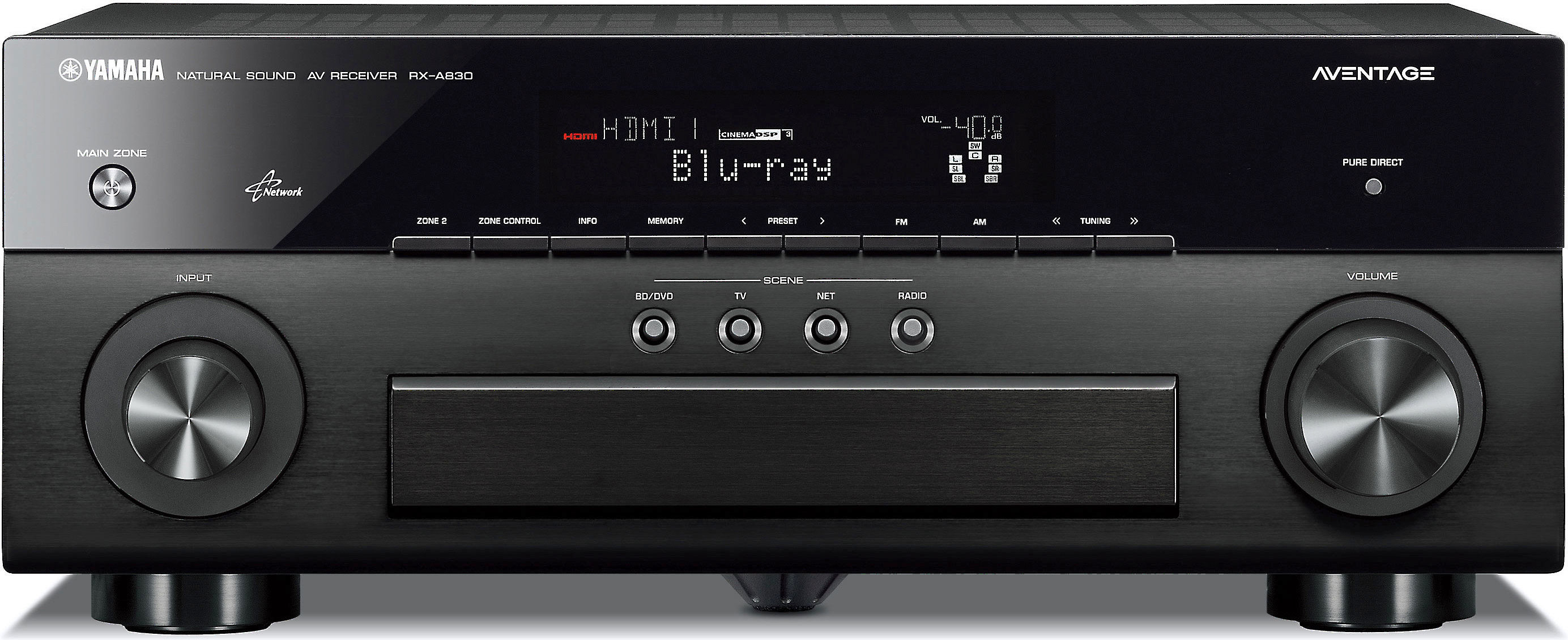 FREE 2-day Shipping: Hear the difference with AVENTAGE Sound quality shouldnt be an afterthought in your home theater receiver.
www.crutchfield.com
2900 kn
specifikacije:
AVENTAGE AV Receivers: Designed to Deliver the Highest Levels of Audio Performance
Aluminium Front Panel Offers Visual and Aural Benefits
Anti Resonance Technology (A.R.T.) Wedge helps to ensure that vibrations do not affect sound quality
7-channel powerful surround sound and full discrete amp configuration
160W per Channel (4 ohms, 1 kHz, 0.9 % THD, 1 ch driven [European Model])
100W per Channel (8 ohms, 20 Hz-20 kHz, 0.09 % THD, 2 ch driven)
160W per Channel (8 ohms, 1 kHz, 10 % THD, 1 ch driven, JEITA)
MHL supports full HD video and audio from mobile phones and portable devices
Network functions such as AirPlay, Napster®* music streaming service and AV Controller app
*Music service availability varies by region.
FLAC or WAV 192kHz/24-bit audio playback
High quality video processing with precise deinterlacing
YPAO R.S.C. (Reflected Sound Control) sound optimisation with multi-point measurement
HDMI (8 in [1 on front] ) / 2 out) with 3D and Audio Return Channel
HDMI Zone B for audio/video streaming to another room
Learning-capable remote unit (Preset remote unit in some areas)
Versatile Zone control such as Zone 2 on/off and control on front panel
Advanced multi-language GUI on-screen display with (English, German, French, Spanish, Russian, Italian, Japanese and Chinese)
Detachable AC power cord for easier installtion
ECO mode operation for about 20% less power consumption
Amplifier Section Channel 7.2
Rated Output Power (1kHz, 1ch driven) 160W (4ohms, 0.9% THD [European Model])
Rated Output Power (20Hz-20kHz, 2ch driven) 100W (8ohms, 0.09% THD)
Maximum Effective Output Power (1kHz, 1ch driven) (JEITA) 160W (8ohms, 10% THD)
Dynamic Power per Channel (8/6/4/2 ohms) 140/180/210/250W
Surround Sound Processing CINEMA DSP Yes (3D)
DSP Programs 17
Dialog Level Adjustment Yes
Virtual Presence Speaker Yes
Dialogue Lift Yes (no presence speakers required)
SILENT CINEMA / Virtual CINEMA DSP Yes
Dolby TrueHD Yes
Dolby Digital Plus Yes
Dolby Pro Logic IIx Yes
DTS-HD Master Audio Yes
Audio Features Pure Direct Yes (with video on mode)
Compressed Music Enhancer Yes
YPAO multi-point measurement Yes (R.S.C)
Adaptive DRC (Dynamic Range Control) Yes
Initial Volume & Maximum Volume Setting Yes
A.R.T. Wedge Yes
Bi-amp capability Yes
Audio Delay Yes (0-500 ms)
192kHz/24-bit DACs for all channels Yes (Burr-Brown)
Video Features 4K Ultra HD Pass-through and upscaling Yes
HDMI 3D passthrough Yes
HDMI Audio Return Channel Yes
HDMI upscaling Yes (Analogue to HDMI / HDMI to HDMI)
Deep Color/x.v.Color/24Hz Refresh Rate /Auto Lip-Sync Yes
Connectivity HDMI Input/Output 8 (front 1) / 2 (Simultaneous)
HDMI CEC Yes (SCENE, Device Control)
MHL Support Yes
USB Input iPod/iPhone/iPad, USB Memory, Portable Audio Player
Network Port Yes
AirPlay Yes
Front AV Input HDMI (MHL support)/USB/Composite
DC Out Yes
Digital Audio Input/Output: Optical 2 / 0
Digital Audio Input/Output: Coaxial 2 / 0
Analog Audio Input/Output 6 / 1
Phono Input Yes
Component Video Input/Output 2 / 1
Composite Video Input/Output 5 (front 1) / 1
Preout 7.2ch
Headphone Output 1
Tuner Section FM/AM Tuner Yes
User Interface On-screen display Graphical User Interface
SCENE SCENE (4 sets)
App Control Yes (iPhone/iPad/Android phone/tablet)
Web Browser Control Yes
Remote Control Unit Yes (Learning*) *Preset remote unit in some areas
Zone Control Zone 2 Audio Output Line output
Powered Zone Zone 2
Zone B Output Yes (HDMI)
RS-232C Interface Yes
+12V Trigger Output 1
Remote (IR) Input/Output 1 / 1
General Standby Power Consumption (IR only) ≤0.15W
Auto Power Standby Yes
ECO mode Yes
Dimensions (W x H x D) 435 x 171 x 369 mm
Weight 10.5 kg